Yes, I have more than one. :P And there are several scattered all over the yard in various places. So you can't exactly call those gardens. :P
~*~ *~

In area number one (in our back yard), the most prominent plant is the sage. I had no idea they it could get so big. I should have gotten a picture of one of the huge leaves. But I also didn't want to get too close to it at the time...the bees love it. :P I have more sage than I can ever use in my lifetime. There's another plant in an area in the front yard.
~*~
To the left of the sage is a big Oregano plant that I've had for a few years. Right now it's more underneath the sage, though. :P Once the flowers on the sage die, I'll be cutting several of the branches. To the left of the oregano is basil (not pictured).
~*~


Off to the right of the sage is rosemary. I really don't feel like it's truly "mine" since I have to buy a new plant every year.
~*~
All the way to the right are several little savory plants. They're all babies right now. :) To the left of the savory is parsley, but it's currently going to seed and isn't very pretty. :P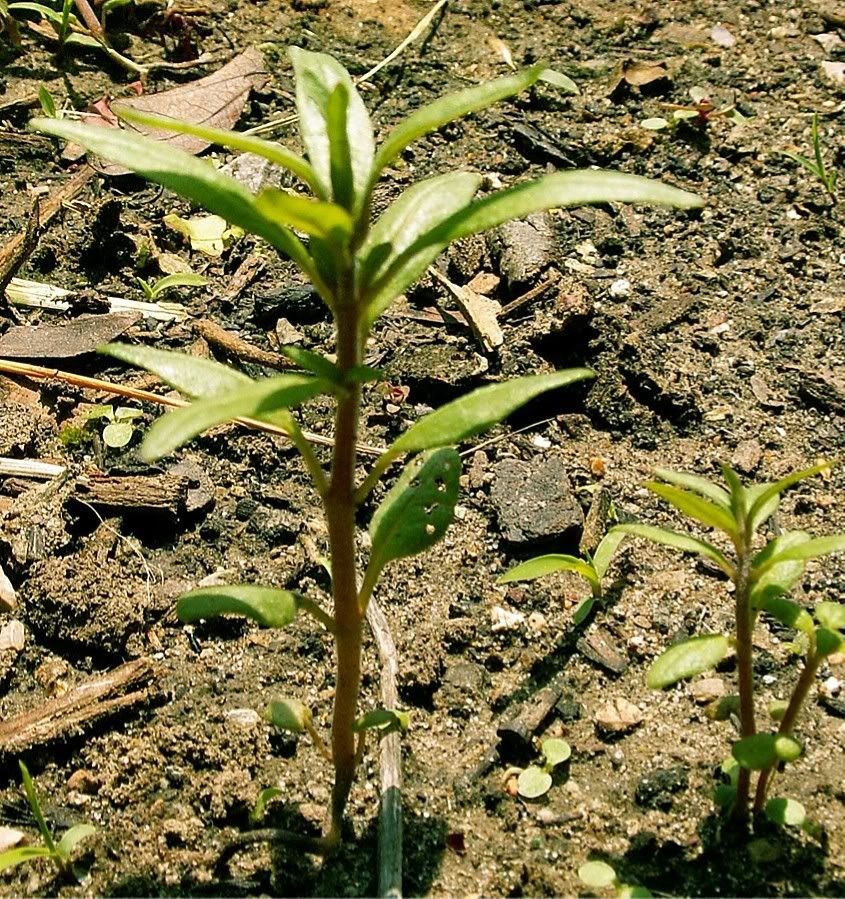 ~*~
In the back is orange mint. A very hardy little plant. Se how these branches are growing up between some bricks? :P
~*~
Overshadowed by the sage on the right side is marjoram. A little behind it is lemon balm (not pictured). Also in this area are several tiny dill, feverfew, and horehound plants.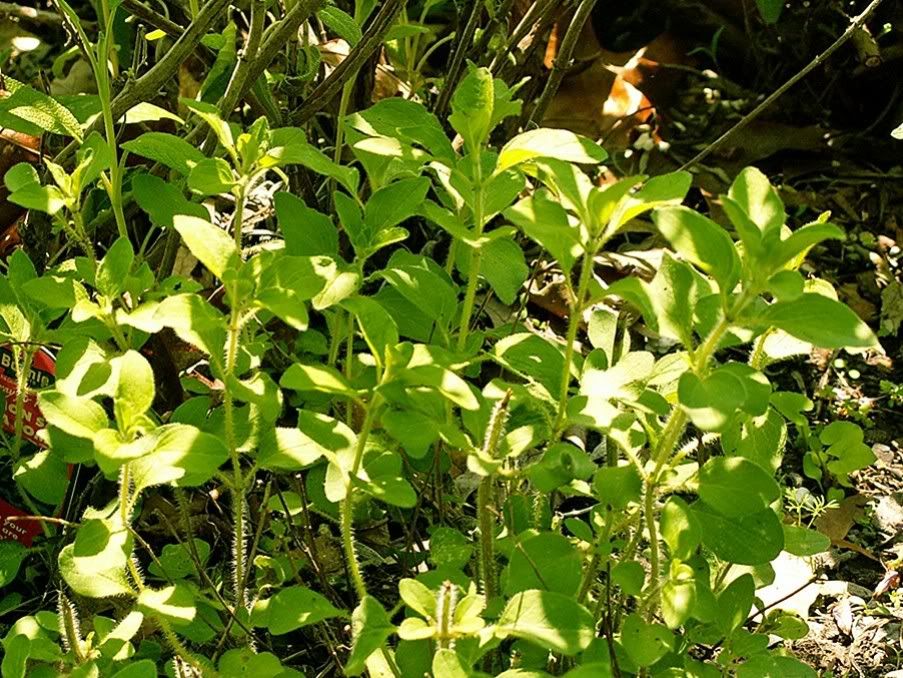 ~*~
All the way on the left is chocolate mint. It smells wonderful! :)
~*~*~
In a small area to the right where we just dug up a 40+ year old rose bush that died over the winter are a few of my herbs that will grow into large plants.
Thyme. It's very hard to get a good-looking picture of this one. :P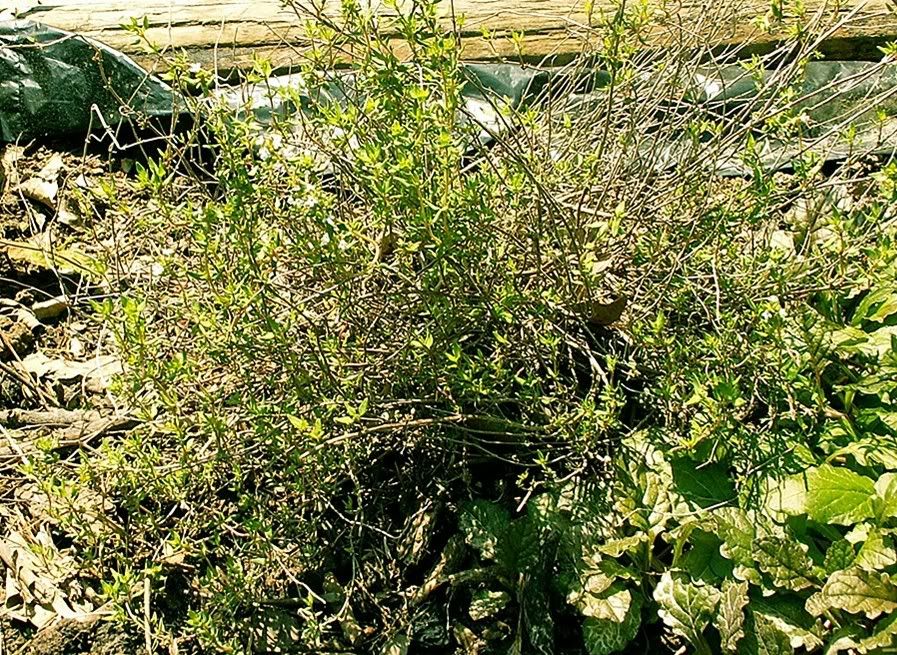 ~*~

Lavender. This plant is 3 or 4 years old. It's slowly getting bigger. I also have English Lavender in an area at the front of the house. It's new this year.
~*~
Russian Sage. Probably my most prized plant. I love it! It gets tiny pale purple flowers on it later in the summer.


~*~*~
To the right of that one is another area...
Chamomile. One of the easiest to harvest from. :)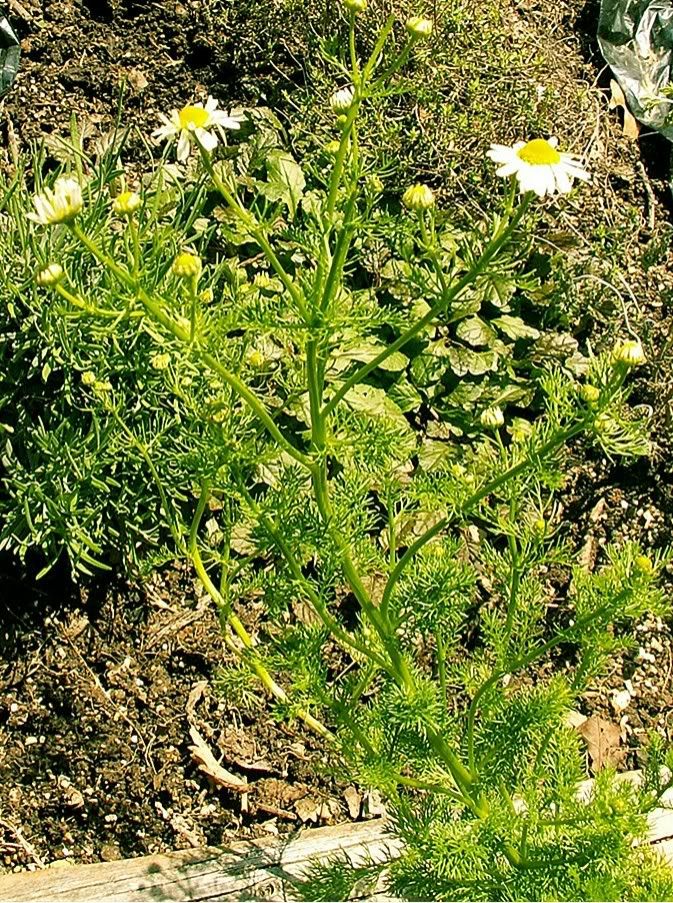 ~*~

Parsley. We use lots of it, mostly in salads.
~*~

More oregano, taken from the plant in area one.
~*~
Watercress. Great in salads. It tastes kinda like radishes.
~*~*~
Also in the back yard is tons of mint in several places.
~*~
And chives in two places. Mom likes it in the garden to attract the bees.
~*~
In the front I have a small area with rocks around it. One of my huge sage plants is there, as well as one of my stevia plants (I couldn't get a good picture of that yet). I also have a big ground cover between all of the plants that has pretty purple flowers on it in the early spring. Also there are:
Germander. It has tiny purple flowers later in the season. Notice that the majority of herbs have purple flowers...:P
~*~
My biggest marjoram plant. Marjoram's an odd one...it's flowers are white. :)
~*~
Lemon Balm. My biggest (the sage here doesn't get in it's way). It has a sweet lemon taste and scent.
~*~
Feverfew. It's flowers are like a bigger version of chamomile flowers.
~*~*~

Others that I have that I don't have pictures of yet are catnip, basil, dill, horehound, tarragon, yarrow, coriander (aka, cilantro), aloe, and stevia. Hopefully my lemon verbena, lemon thyme, and tri-color sage will revive. They don't look too promising, though. :(
I can post pictures of flowers as they bloom. :)