I was tagged by EG at
A Reflection On The Water
.
This is harder than you may think! Think of 15 albums that had such a profound effect on you that they changed your life or the way you looked at it. They sucked you in and took you over for days, weeks, months, years. These are the albums that you can use to identify time, places, people, emotions. These are the albums that no matter what they were thought of musically shaped your world. When you finish, tag 5 others.
At first, I wasn't sure if I'd be able to come up with very many, but after starting, it ended up being pretty easy for me. :P I've grouped some, mainly multiples from the same artist. Some I just couldn't pick one from. :P I must say, I worked pretty hard on this. I have thing for providing links to everything...I love Wikipedia. :P
And I apologize for the bad formatting of this post...I'm about fed up with the pictures not going where they're supposed to and the extra spaces popping up after I save...:P
In no particular order)...
Lifehouse
's
No Name Face
and
Stanley Climbfall.
Definitely two of my all-time favorites. When I got
No Name Face
, my stereo had just died. :P So I was stuck with my little boom box. I think the only time that the album left it was when it was transferred into my portable CD player when we would leave the house.
When we got back, it went right back into the boom box. :P Stanley Climbfall was one of the few albums that I pre-ordered on the Internet. It took nearly a week to arrive after it's release date...the wait was horrible! :P
Josh Groban
's
Awake
. A more recent one. I've pretty much worn out all of his albums after getting them, but this one more so than the others, I think. My grandma has fallen in love with him. After watching his
Awake Live
DVD, she informed me that she had filed adoption papers on him and was waiting to hear back! :P Notice that all of his studio albums have gone platinum. Are we surprised? :P
Leeland
's
The Sound of Melodies
. This was truly a great album. Leeland is such a great songwriter, and this album was recorded while he was only 17! Wow. Makes you think about what you've done with your own life, doesn't it? How many people can say at 20 years old that their recording their third album and have written songs with Michael W. Smith?
The soundtracks to
The Lord of the Rings
movies. I wore these out when I got each of them, and have since gotten my hands on copies of the complete recordings.
Howard Shore
created a wonderful soundtrack for this trilogy. I would often listen to a single album all through school in the mornings, and after I got my computer and had them all on it, I listened to them all the way through. :) These were the ones that began my obsession with movie soundtracks. I now have an extensive collection on my computer, and I love to listen to them all on shuffle. It's really fun...you'll hear a song from LotR, then from PotC, Narnia, Indiana Jones, Star Wars, then back to Narnia...and so on. :P
Steven Curtis Chapman
's
Speechless
and
Rebecca St. James
's
Pray
. I got both of these albums at about the same time. My mom is still tired of hearing any songs from either of these albums, and I think she's even tired of the artists themselves. :P Though I don't follow them nearly so much as I used to, they were my original two favorites.
Falling Up
's
Crashings
,
Dawn Escapes
, and
Captiva
. I love the music that this band makes. It's very unique. And...you can spend hours trying to
figure out how in the world they come up with the song titles that they do. :P Also, who can't love a band who's lead singer thanks Legolas in his first album? :P I'll never forget the interview that I saw on TV of the band. As they were introducing themselves and what they do..."I'm Jeremy, and I play the bass." "I'm Josh, and I play the drums." "I'm Jessy, and I play the singer."
Third Day
's
Offerings
,
Offerings II: All I Have To Give
, and
Come
Together
. I've picked out these three of theirs because I remember them being in the living room's six-disc player a lot, along with the Michael W. Smith and
All Together Separate albums that are coming up next. :) I think, out of these, I enjoyed
Come Together
the most. Most of the songs are still in my favorites list. :) I love everything that Third Day does, as does my grandma (the same one that's filed adoption papers for Josh Groban :P). They're her favorite. For the longest time, I couldn't get her to listen to anything but Third Day! :P
Michael W. Smith
's
This Is Your Time
,
Worship Again
, and
Freedom
. The first two were albums that were in the six-disc player, and Freedom is a wonderful instrumental album. I
would listen to this one during school a lot. Recorded in Dublin, it has an Irish sound to it. :) Very, very good. I would love for him to record another instrumental album. Smitty writes wonderful lyrics and music, and he's been at it for more than two and a half decades. That's longer than I've been alive! :P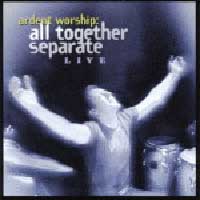 All Together Separate
's
Ardent Worship Live
. This is a live worship album that the band recorded. It's much different than their studio albums. This album has some great praise and worship songs on it. I fell in love with "Did You Feel The Mountains Tremble" after hearing it on here for the first time. It's a rather long song, though. The lead singer says "One more time" for the chorus about three times, I think. :P And he has the audience go through it by themselves once by saying "You sing, I'm gonna dance. Go!" :P
Sanctus Real
's
Say It Loud
. This is another one that everyone but me was sick of. :P This was the band's first major album. I heard the first single, the title track, on the radio when it was first released, and I saw the music video for it, too...a very neat one. :) When trying to find the album to buy it...it was very difficult...I searched in several stores before finding a copy. Most places were sold out. Interesting cover photo, isn't it? :P
Music Inspired By The Chronicles of Narnia: The Lion, the Witch and the
Wardrobe
. A
great
CD. My siblings and I all love this one, and were constantly borrowing it from one another. :P I remember playing pool with my brother while listening to it. We also listened to it while working on a wardrobe mural for school with drawings from the story in the doors of it...it's really neat. Again, I still have songs from this album in my favorites list. I especially love the songs that Jars of Clay, Chris Tomlin, and Kutless recorded on it.
DC Talk
's
Welcome To The Freak Show
. I bought this album while I was in Branson. I remember spending hours listening to it over and over, pretending that I was a part of the live show, singing and playing the drums. :P Yes, I was quite young. LOL.
Jars of Clay
's
If I Left The Zoo
and
The Eleventh Hour
. I love Jars of Clay, but especially these two albums.
The Eleventh Hour
is one of my favorites, their best so far, in my opinion. :) Their use of 'big words' fascinated me, I think. :P I haven't heard a Jars song yet that I haven't liked. They're all great. :)
Jeremy Camp
's
Stay
and
Carried Me
. I remember when Understand debuted on RadioU and TVU. I loved it and immediately bought the album when it came out. Carried Me is probably my favorite of his, though. :) Though,
Beyond Measure
has my favorite songs on it...go figure. :P
Avalon
's
Oxygen
. I bought this one because I was asked to sign the last song on the album (using sign language) in church. I really liked the whole thing, as did my Mom...so it was played a lot. In the living room player, in the car...everywhere. :P
(EDIT: One disappeared! I had this one further up in the list, but now it's not there. I have no idea what happened to it! :P)
Building429
's
Space In Between Us
. An awesome album! I remember listening to this album while playing badminton outside. My sister and I would take my boom box outside and plug it in to a huge extension cord and have it sitting on a chair in the middle of the yard...yes, we're weird! :P
~*~
Ok, so I'm tagging:
Lizzy
Elissa
Erin
Elisabeth
...and anyone else who stumbles upon this and would like to take the challenge. ;)
Oh, and for those of you who have been wondering why I've nearly disappeared from the blogging world...my computer has decided to give out on me. :( If I try to do anything that takes much memory, or try to do more than one thing at a time it shuts off. So the majority of my computer time is spent trying to solve this problem and doing the things that have to be done online, and other things when I can fit them in...periodically taking breaks to go and bang my head on the wall. :P
Hopefully everything will be back to normal soon...