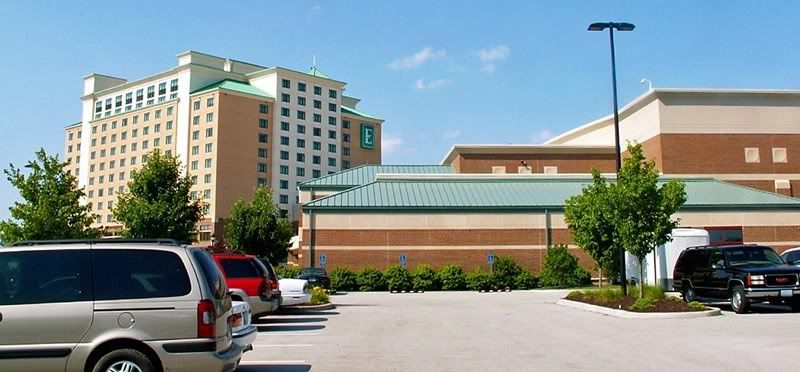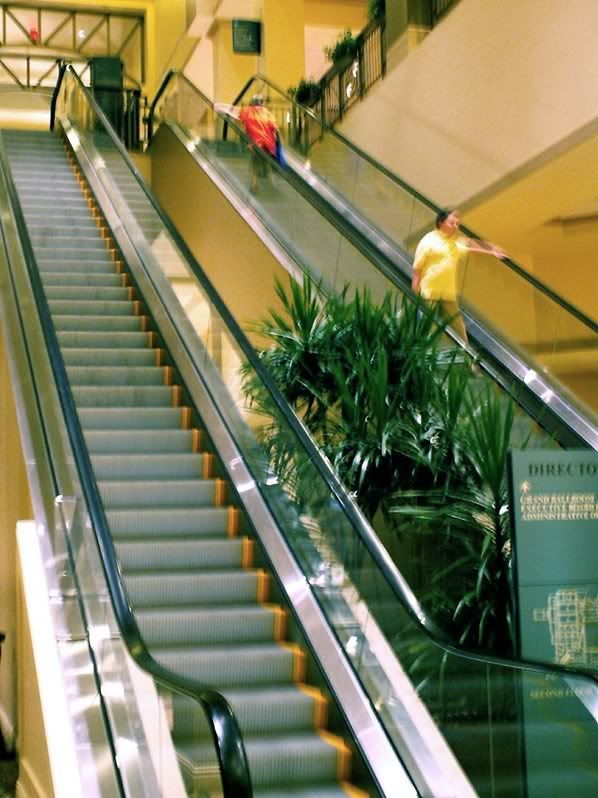 Well, with it being so long since I last posted, I have a few different things to tell about now. :P
Last week was our annual home-school conference (Monday through Wednesday, June 23-25), and I have several pictures and videos to share from that. :) The first batch will be of the actual conference and convention center that it was held in, and later when I get the photos fixed and uploaded, I'll post some of the hotel that we stayed at. The convention center and the hotel are both one building combined, so all we had to do was go through a door and then up an elevator to our room. It was great!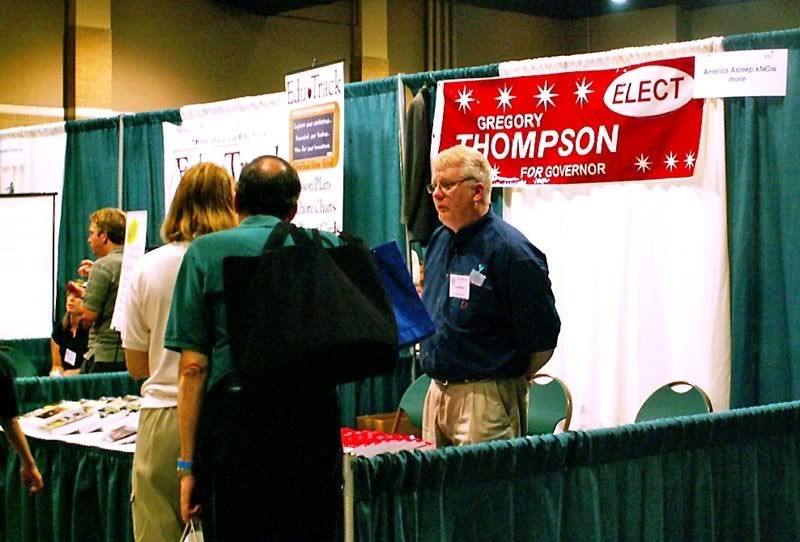 My parents are the home-school leaders (for CHEF [Christian Home Educators' Fellowship], the larger home-school group of several surrounding areas combined) for our area, so we help out with the conference. We were there early to help set up, and we help clean up afterwards. Also, during the conference we help out at some of the speakers' tables selling their merchandise for them when they're speaking or need breaks. We'll also help out vendors who are short-handed, or work at the registration table. We have fun. :)
I think this is the second year in a row that I haven't actually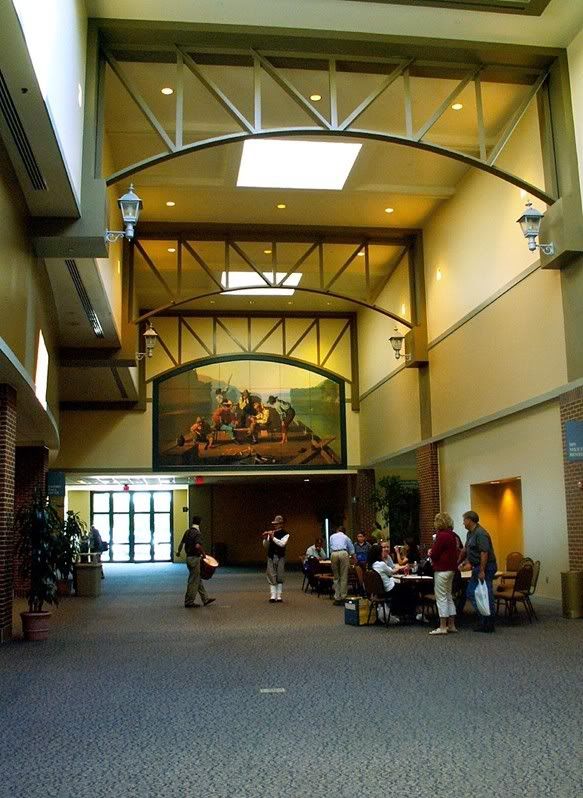 attended a class. We're usually busy working, and when we have free time we like to walk around the curriculum hall looking at books. I got a few really good ones this year. One is about a drummer for the Confederate Army during the Civil War called
The Orphan and the Beaten Drum: A Tale of the Invasion of the Confederate States
by Bryce A. Chandler. He was actually at the conference (and signed my book!) in costume. Every once in a while he would go into the foyer and play either his drum or his fife. It was great. I have a few videos, which I will upload when I can. (Uploading videos on dial-up isn't easy. :P) He also has another book that I wish I had the money to buy called
A Courier For Stonewall
that looked really good. I picked up a flyer from his table that has a couple of links on it:
Southern Cadence Press
, the Publisher, and
Slice of Bryce
, his blog.
There was one 'class' that I wanted to go to this year, and would have, but our Grandma showed up for a visit right before it started, and stayed until after it was over (she lives near where it was). It wasn't exactly a class, LOL. I don't know what you'd call it. :P T
he Burns Family was showing a preview of their newest film
Pendragon:Sword of His Father
and talking about how they produce God-honouring films. My sister had a nice long talk with the youngest of the Burns boys (while I was busy working a table and couldn't join, of course! :P) and told me all about it. It sounds and looks great! You can view a trailer of the
Pendragon
movie
here
. And here's the link for the
Burns Family Studios
site.
There was also a class that started when that was over that we would have liked to attend (but Memaw was still there) by Kevin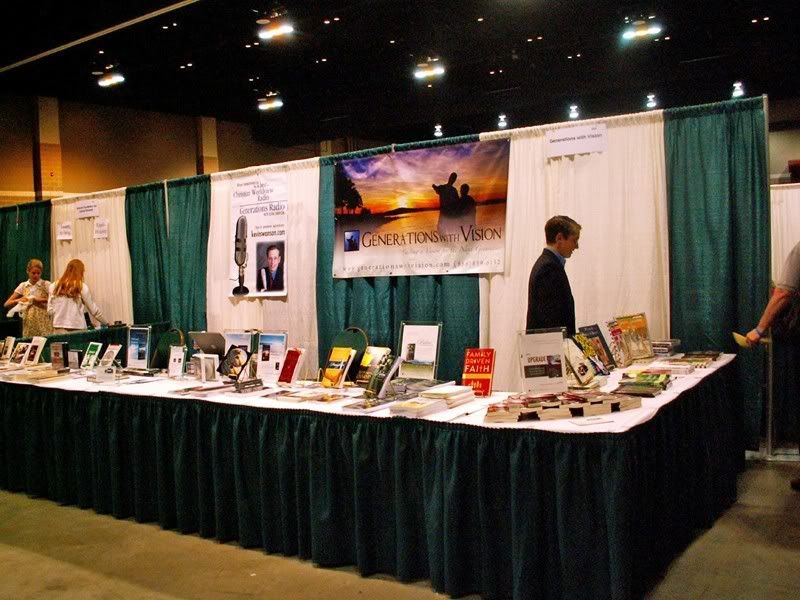 Swanson. We became friends with him while talking to him during the speakers' dinner on Tuesday. He and his son Daniel sat at our table. He's a lot of fun to talk to! There are some photos of his table in the album. :) 16-year-old Daniel was almost always there, and handled most of the work there...I hardly ever saw Mr. Swanson there. He trusts his son to handle it all. Isn't that great?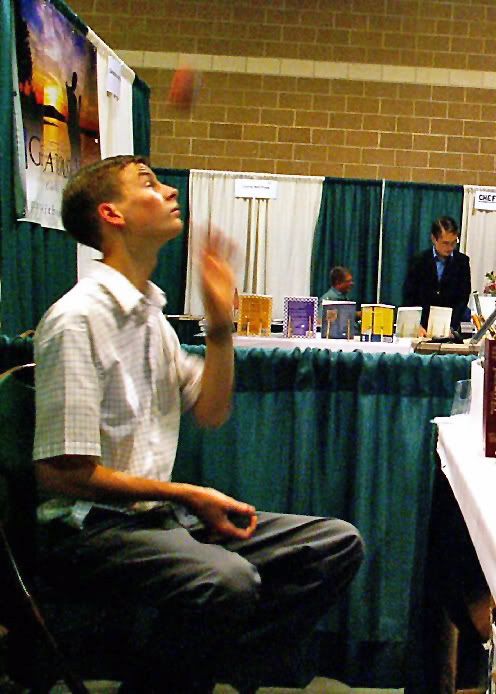 My sister and I helped out at
Visual Manna
's table most of the time. Mrs. Jeffus is very nice, and has been close with CHEF for a long time. She lives in the area. Next to her table was
Genevan Foundation for Cultural Renewal
. They're also from this area. A very nice family...with lots of kids! One of the boys, I believe his name was Ben (who was working the table along with his sister most of the time), could juggle. He did it often. It was fun to watch. I got a video of him in the foyer after the vendor hall closed on Tuesday evening, but I wish I had one from when we were sitting next to him. The man who was helping out Mr. Swanson (whose table was next to theirs, and it seems that they were friends) could also juggle. They would do it together sometimes, and once in a while would try tossing balls back and forth to each other. That was fun to watch, because they obviously need to work on that stunt some more! :P Sometimes others would stop and juggle with him, too. That was fun. They also have a blog,
The Serven Clan
.
Here's the photo album for the
24th Annual CHEF Conference
:D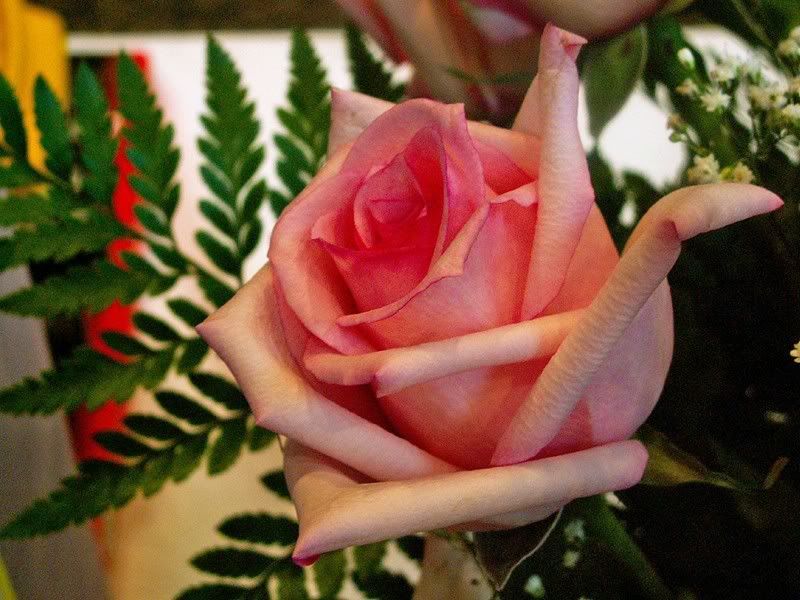 LOL, did you all notice, I've figured out a new way to put links into my text? I've been trying to figure it out for forever! Figure out how to get my own HTML code to work for them, I mean. All I had to do was click the 'Edit Html' tab at the top...duh! :P